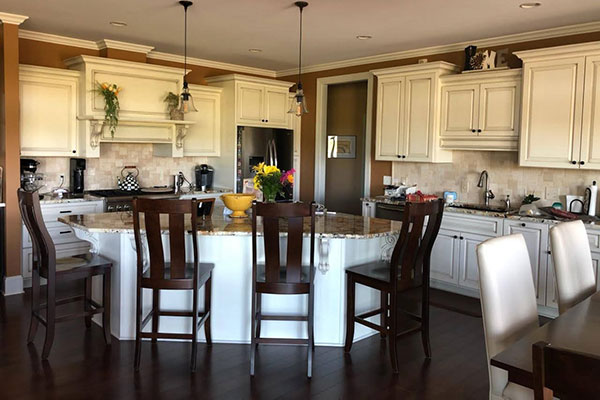 The kitchen is the heart of the home for many families. Whether it involves construction of a new home or an upgrade of an existing kitchen, remodeling begins with deciding on the type of kitchen cabinets needed to supply both functional use and beauty. Nothing sets off an awesome new kitchen like awesome new kitchen cabinets. And of course, custom cabinets should always be made by proven professionals with a track record of great customer service and excellent quality products.
Unique kitchens require unique design, including utilizing island cabinet styles that set off any full service kitchen. Beachy Cabinetmakers knows how to design what you want with special attention to the cabinet style and counter top material. We use nothing but the finest woodworking and counter top materials and can build any design you can imagine. There is nothing like custom cabinets as the centerpiece of an elegant and attractive kitchen.
As much as we tend to focus on specializing in building excellent durable kitchen cabinetry, our niche construction company is not just a cabinet supplier. We also do full kitchen remodeling in all areas of construction, reducing the need for a separate construction company that can complicate the remodeling process. When we do the complete design and refurbishment we can also schedule cabinet installation within the construction plan, which can then result in maximum work in minimal time. Remodeling a kitchen is similar to other construction operations regarding removing old fixtures and modifying old kitchen arrangements, and hiring one company for the entire project helps with cohesion.
Kitchen cabinets are not our only area of expertise at Beachy Cabinetmakers. We also build custom bathroom cabinetry, as elaborate bathrooms are also a very attractive component of any immaculate home. Big bathrooms mean extensive room for plenty of cabinet space. In addition, we can help design and construct specialty cabinets for areas of the home such as bar room or outdoor kitchen. We are only limited by your imagination and specific home need.