Built to Last
We build cabinets out of only the highest quality materials available. High quality cabinets that will last a lifetime is our ultimate goal. All of our cabinets include top of the line hardware, plywood, hardwood and finish.
Endless Possibilities
Our customers enjoy the convenience of choosing any species of wood, any color and any style door they may be looking for. We use only the highest quality finishes available, including stains, conversion varnish clear coat and pigmented conversion varnish for painted finish.
All our finishing is done at our shop and is applied by hand and inspected to ensure that it meets our high standards. We have the ability to mix our own paint and stain colors so we are able to match or produce any color you are looking for!
Custom Construction
Our cabinets have no standard sizes. We build them for a perfect fit to your space. No need for fillers or modifications.
Face Frame Construction
We also have a unique one piece face frame construction. Cabinets are built in one piece whenever possible instead of multiple boxes fastened together.
The first illustration shows an example of most other Cabinet's Face Frame Construction. The second illustration shows an example of our unique one piece Face Frame Construction. Notice there are no unwanted seems in our construction technique.

Our Face Frames and cabinet boxes are made in one piece to practically any size or shape as seen below.

Drawer Construction
All drawers are dovetailed and are made from solid Maple. Drawers feature undermount "soft-close" drawer slides. Drawers can be slammed shut and will still close slowly. The undermount slides allow you to show off your beautiful dove-tail drawers.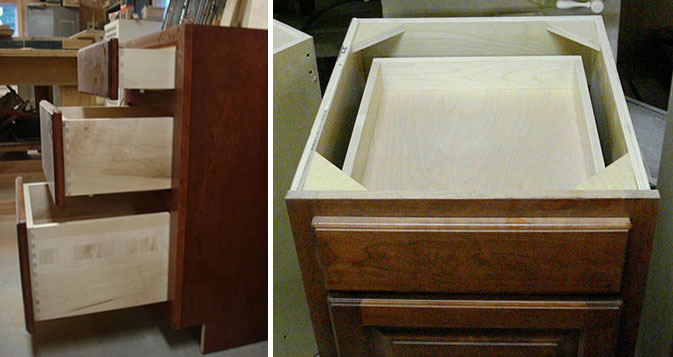 Fully concealed hinges with "soft-close" feature are included in all cabinets as well. All Cabinet boxes are constructed out of a sturdy 3/4" hardwood plywood.
We also offer many other accessories to make your cabinets more functional and more convenient to use!