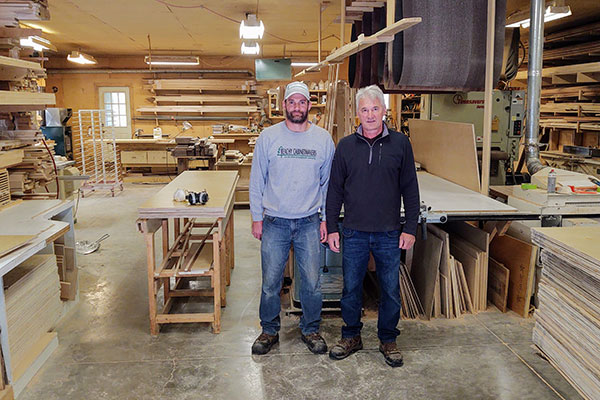 We are a small family owned business, started in 1984, that has been operating in Buffalo and Rochester, NY.
We offer DESIGN, custom made CABINETS, custom COUNTERTOPS, and INSTALLATION. Father and son owners (seen in photo) strive on quality and attention to detail. Each of our handmade cabinets include custom details to make your room unique and a perfect fit for your space!
Our quality products and professionalism are supported by many customer reviews. We are dedicated to solid customer service because we know there is no better advertising than a personal reference from a homeowner who truly appreciates our attention to detail and design when we build a superior product.
Our craftsmanship is our trademark.
Purchasing cabinets from us is also an economic advantage, which is always of interest to the remodeling constructing homeowner. We eliminate the retail operation that normally specializes in selling cabinetry built by other cabinet makers. Often these are cabinets made of inferior material in a cookie cutter design. Custom cabinets are unique cabinets, and the elimination of the middle business operator means quality along with more affordability.
Anyone in the Buffalo to Rochester region of New York who is remodeling or building a new home should contact us and let us help you decide on your kitchen design and custom cabinet selection. We are always dedicated to honest and trustworthy customer relations.