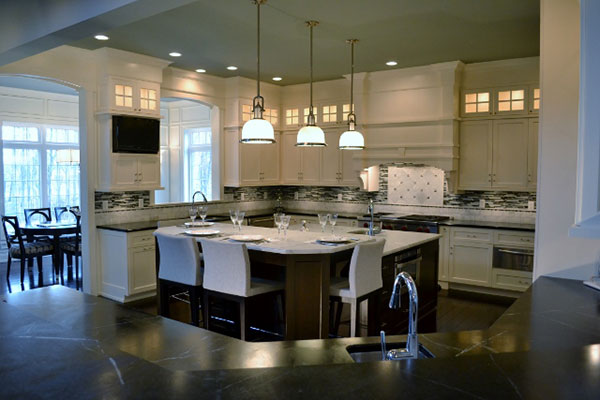 Hear what our customers have to say!
We are extremely grateful for all of the wonderful feedback we have received below.
Please take a moment to share your own experience with us at one of these great review sites.
We appreciate your time and look forward to hearing about your personal experience with us.
"Do yourself a favor and talk to Shawn Beachy about his custom-made cabinets before you spend too much at a big-box store for so-so quality. Beachy Cabinet Makers crafted the cabinets for my wife's and my d.i.y. kitchen remodel. I am both the customer and the installer, so I can attest not only to Shawn's professionalism, excellent customer service, and fair pricing but also to the excellent craftsmanship of the cabinets, including construction details that might not be noticed by a homeowner right away, but will ensure durability and a long service life. On top of that, the cabinets are drop-dead gorgeous and we've gotten tons of compliments!"
Joseph R
Source: Facebook
"My wife and I built a new house last year and were really struggling to find kitchen cabinets that we liked. We made at least a half a dozen trips to various kitchen cabinet stores and still could not find anything that we really liked. We did not want dark wood cabinets, but when we looked at the lighter ones, we noticed that had very pronounced and often mismatched wood grains. We also found that if we wanted to get the lighter select grade wood, we would have to upgrade to the custom cabinet lines which would at least double the price. At this point, being frustrated with the experience, we remembered that someone had told us that there was a custom cabinet maker in Clarence. We went online and found the Beachy Cabinetmakers website. The pictures that we saw on the website were exactly what we were looking for, and proceeded to call them and set up a meeting. After looking at the sample kitchen in their store and other examples of their work, both my wife and I immediately determined that their natural cherry cabinets were exactly what we wanted. They were rich looking without all the mismatched wood grains that we did not like. The owners explained that part of their process was match up the wood so you would not have as much variation in the grain. We asked for a quote and were pleasantly surprised by how competitive it was. To make a long story short, we went with Beachy Cabinetmakers and could not be happier with our choice. We get more complements on our cabinets. There are many extras that are included in their workmanship that people don't even see such as the ¾ inch plywood used in the construction and the solid wood shelves. We would not hesitate in recommending Beachy Cabinetmakers to anyone."
Darren & Inger B
Grand Island, NY
Source: Customer
"I would like to thank Beachy Cabinetmakers for the total effort they put into making our new kitchen possible. In the spring of 2010, we decided to remodel our kitchen in our home. Looking at the quality of work in the showroom was exceptional, but not nearly as great as our entire experience with them. From the beginning to the end, exceptional craftsmanship was done. Another important factor to me was always being on time. I could write pages of how satisfied I am with my new kitchen but I will try to sum it up in these few words. To find someone in today's world that truly takes pride in his work is hard to find. I am more than satisfied in every aspect of my experience with Beachy cabinet. Thank you for all you did for us. I love my new kitchen!!!!!"
Peter & Sharon L
Clarence, NY
Source: Customer
"Thank you for your hard work. Our new kitchen is absolutely beautiful. Your craftsmanship is spectacular and timeless. Everyone who looks at the kitchen is awestruck at the quality and beauty of your work. A special thank you goes out to Ken for your patience during the install. You ran into a couple of issues, but did not give up. You have a very special company and I am lucky to have found you. Good luck and God bless!"
Sue & Mark
Williamsville, NY
Source: Customer
"I can't thank you enough for making my dream kitchen come true. Thanks for all the extra special touches. Please feel free to bring people over anytime. Come back and take pictures also. I wish you and your families the best of health, happiness, and success."
Cathy M
Depew, NY
Source: Customer
"We had Shawn Beachy do the kitchen cabinets in our last house and our new house. Both times he did an incredible job and was great to work with! Highly highly highly recommend."
Alexandra P
Source: Facebook
"The Beachy Family: Our Beachy cabinets are exceptionally well built. Much more solid and sturdy than manufactured cabinets. Ken and Shawn Beachy were very agreeable and adaptable to modifications and adjustments during the installation process. This improvement to our kitchen was one of the best investments in our home that we ever made. Thank you again."
Ken & Audrey P
Clarence Center, NY
Source: Customer
"Our family is absolutely in love with our kitchen and bath cabinets. Ken and Shawn are true craftsmen and offer a product that is far superior to anything I could find at any of the local stores. We never thought we could afford "Custom Cabinets" until we went to Beachy Cabinetmakers. We can't wait for our next project!"
Dave & Kim W
East Amherst, NY
Source: Customer
"It has been about 6 months since we have had our kitchen remodeled and our Beachy Cabinets are the center piece of all that work. Ken came to our home and put a program together that included installation of high quality cabinets at a fair price. I like to deal with local families and Beachy would do our next kitchen."
Michael G
Clarence, NY
Source: Customer
"Ken listens to the customers needs and builds beautiful cabinets."
Bing S
Buffalo, NY
Source: Customer
"Beautiful Craftsman high quality Cabinets."
Julie G
Source: Facebook
"Beachy Cabinetmakers built and installed our cabinets in our new home recently. The cabinets are beautiful and Ken along with his staff did an excellent job with the installation. Pricing was very fair. Marla was absolutely wonderful. She was always there to answer any questions and assist us when needed. I would highly recommend this company."
Carol E
Variesburg, NY
Source: Customer
"We had a wonderful experience with Beachy Cabinetmakers! Our Ash cabinets went above and beyond our expectations. The high quality craftsmanship, timely installation, and professional manner were truly appreciated. we would highly recommend Beachy Cabinetmakers!"
David & Irene N
Alexander, NY
Source: Customer
"We would like to thank Beachy Cabinetmakers for the beautiful kitchen cabinets they installed for us. The craftsmanship is of the highest quality and we could not be more satisfied with the quality of the work. The entire process, frm choosing the type of cabinets to the installation was an experience made easy by the knowledgeable and friendly people at Beachy who show genuine concern to meet your every need. We most certainly, highly recommend Beachy Cabinetmakers, to anyone considering kitchen cabinets. We could not be happier with our choice."
Joe & Donna B
Tonawanda, NY
Source: Customer
"I highly recommend Beachy Cabinetmakers for all your cabinet needs. We are very happy with our kitchen cabinets and vanities, and have received many compliments. Their work-manship is of the highest quality. Their cabinets are like a fine piece of furniture at a very reasonable price."
James & Donna J
Elma, NY
Source: Customer
"My experience with Beachy Cabinetmakers has been very positive. They are very professional in their workmanship, & tend to be exceptionally meticulous in their finished product. I highly recommend them for any handmade cabinetry project."
Al D
Source: Customer
"High quality cabinets and workmanship, customer service is excellent!"
Cheryl C
Source: Facebook
"Thank you so much for our cabinets!! They do look wonderful! I will send you a picture when everything is done. Thanks again for everything!"
Joann W
Marilla, NY
Source: Customer
"Beachy Cabinetmakers custom built the cabinets in our kitchen and one of our master bathrooms. To see all our ideas come together frm a sketch to real life was amazing! The quality of their work is exquisite and their attention to detail is what makes their work stand out above the rest. More importantly, their professionalism is exceptional and to see a father and son enjoy working together is truly refreshing. Thank you for a wonderful job!"
Dino & Michelle V
Williamsville, NY
Source: Customer
"Beachy cabinetmakers built the cabinets for our kitchen remodel over ten years ago. We still get compliments on them, and love them as much now as when they were new. Thanks Again Ken and Shawn!"
Dave & Joyce F
Hood River, OR
Source: Customer
"We want you to know how much we love our new space! It's awesome having so much cupboard space - I still have an empty one! We get compliments frm everyone who comes over. Thank you for the fantastic work you did and for working so well to meet our needs."
Bob & Debbie W
Holley, NY
Source: Customer
"Thanks to you and your dad for our mudroom cabinets. When my husband came home he was so impressed with your work! They are just beautiful and give us so much storage! It was great working with you. Thanks again."
Roy & Chris J
Buffalo, NY
Source: Customer
"Thank you for making those beautiful cherry cabinets for us; we love them! We were all amazed at how well they match the molding; you have an amazing eye!"
Dale & Nancy H
East Amherst, NY
Source: Customer
"Thank you for a fantastic job on our kitchen cabinets - we love them and will gladly recommend you to our friends."
Dan & Maureen K
East Amherst, NY
Source: Customer
"Thanks for all of your hard work. The kitchen looks great! Best wishes for your continued success."
Katie M
Williamsville, NY
Source: Customer
"Thank you Ken, you did a wonderful job and the cabinets far exceed my expectations. Beachy Cabinetmakers will be highly recommended by me."
Sue
Source: Customer
"Thanks, Shawn! Looking forward to more gorgeous cabinets."
Clint C
Williamsville, NY
Source: Customer
"Thank you for the beautiful cabinets. We love them! The counters are excellent as well. I will share photos when everything is complete."
Alex P
Lewiston, NY
Source: Customer
"Hi Shawn! The bar is AMAZING. You guys did an unbelievable job."
Kristin K
Hamburg, NY
Source: Customer
"It's like Christmas morning for me every time I see my new kitchen. You did a great job, and everything is exactly how I wanted it, and the work was done in the three week time frame we had. I am attaching photos. I will be happy to speak to anyone wanting a testimonial. Feel free to use my words or photos on your website."
Kathryn C
Akron, NY
Source: Customer
"Cabinetmaker designed, manufactured, and installed the new kitchen cabinets, including a large "centerpiece" island. We could not be happier with their service and the quality of their work. Shawn was involved frm the beginning with helping to design the new kitchen layout and cabinetry. He was professional, knowledgeable, and easy to toss around ideas with. The quality of the cabinets, frm the workmanship to the painting to the hardware to the installation, is top-of-the-line. Beachy Cabinetmakers was fast and worked within the general contractor's schedule. They were ready when it was time for the kitchen installation. And when the contractor damaged one of the cabinet doors, Shawn was quick to fix the problem. We highly recommend Shawn and Beachy Cabinetmakers."
Susan & David C
East Aurora, NY
Source: Customer
"Shawn produced magnificent bathroom cabinets for me and delivered them on time."
Paulette A
Buffalo, NY
Source: Customer
"After meeting with MANY different companies on estimates to do our kitchen we knew that regardless of the estimate we wanted to give Shawn and his family our business. To our surprise, he was the most affordable, had the best design ideas and offered many choices frm finish to type of wood. When our kitchen was completed we realized the molding at the bottom of the cabinets needed a bit of trimming done due to fridge trim kit not sitting right and Shawn came right back out and fixed on the spot. We loved the work Beachy did on our kitchen so we called him right away to do our bathrooms. Shawn was amazing to work with and his customer service is absolutely amazing."
Jeremiah & Jennie S
Ransomville, NY
Source: Customer
"My kitchen came out beautifully and your cabinets play a prominent role!"
Sue K
Amherst, NY
Source: Customer
"Beachy Cabinets has designed and made several pieces for us and in our house building was the best contractor we worked with. They are so easy to work with, honest, and produce top quality work at very fair costs. We have gone back to them to make other pieces of furniture and there is nothing they can not do. I look forward to contracting with them again."
Diane A
Lockport, NY
Source: Customer
"My wife and are very happy with the craftsmanship and timely remodel by Beachy's of our kitchen cabinet remodel and installation. They were precise, detailed and extremely neat and clean."
Don S
Middleberry, NY
Source: Customer